Hiya, this is new content.
Yeah, I actually knew that Kaguya had a live-action but I seem to forgot about it.
This movie lasted for 2 hours, like most live-action films. Let's get this review on the road, because oh boy I have a lot to talk about.
Story
This film is following the basis and timeline of the first season, for the most part, because this movie ending is TOTALLY different. (Okay, I'm not gonna spoil…)
The movie is pretty decent at best. I was setting this one with a pretty high bar since the cosplay of the characters are pretty on point. (More on that later)
The movie for like 3/4 was actually entertaining, with some ideas from the anime, and some original ideas for the live-action. But this story overall, even in the anime had no buildup to a climax at all, so this movie tried to tweak the plot just so that they can put a pseudo-climax into the movie.
Personally, I'm not enjoying the original ideas they threw at me, its a farcry from the anime. The comedy was pretty nailed. I like the comedy, but sometimes it misses the mark.
Maybe I can blame the anime for setting such a high bar that the live-action underestimated?
I did lower my expectations like pretty much how I watch every manga/anime-turned-live-action film, but still I didn't enjoy this film.
I really appreciate the dedication, it's obvious they spent quite a lot of cash with the props and the makeup, but I feel like they need to polish their story up a little more.
The climax though, on the bright side, it's original so expect the unexpected, but the ending kind of reverses the climax, which is rather pointless. Unless, they intend to make a 2nd movie at some point, otherwise I really cannot fathom why they made such an ending. But the takeaway of the enidng is that there is a potential implication for that ending.
Overall, I didn't really enjoy this film as much as I expected, despite putting my expectations a little low. The essence of the story is still there, but it is lacking something compared to the anime.
Music
Something this movie lacks as well. The music is as great in the anime, but the live-action didn't really did a good job.
Sometimes I wish live-action films can just buy the music from the anime publishers themselves so they don't need to hire another composer for the OST. Sometimes the anime OST just fits better.
Casts and Portrayal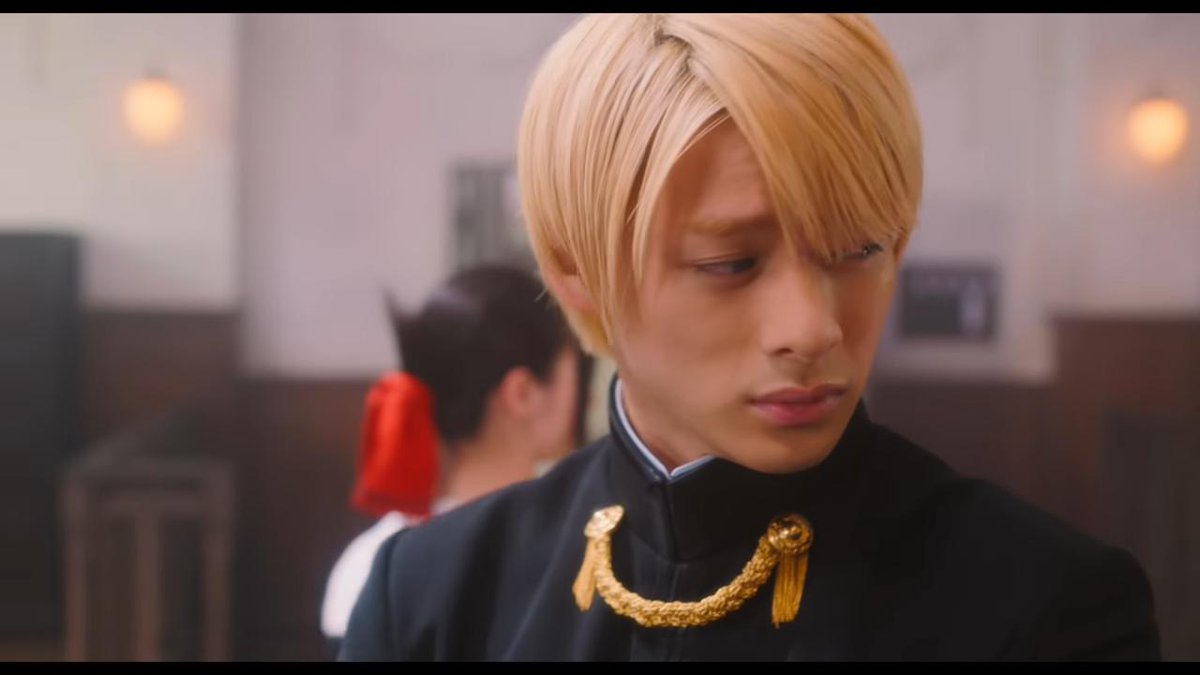 | | |
| --- | --- |
| Characters | Actors/Actresses |
| Shinomiya Kaguya | Hashimoto Kanna |
| Shirogane Miyuki | Hirano Sho |
| Ishigami Yu | Sano Hayato |
| Fujiwara Chika | Asakawa Nana |
| Hayasaka Ai | Hotta Mayu |
| Kashiwagi Nagisa | Ikema Natsumi |
| Tsubasa | Yutaro |
| Miyuki's Dad | Takashima Masahiro |
| Narrator/Tanuma Shozo | Sato Jiro |
| Cinema Counter Girl (cameo) | Koga Aoi |
| Shirogane Kei | Fukao Amu |
Generally, I like the cast list. The cosplaying is extremely spot on. (Except for Kei and Ai's makeup is barely)
Hashimoto Kanna, cosplay is pretty nice. Down to the hairstyle, which is probably the hardest to nail in live-action films, they actually did it. But… I feel like her voice is a little bit on the coarse side, making that slight Tsun nature of Kaguya, kinda hard to sit well with.
Hirano Sho though, his EXTREMELY coarse voice is really really weird. He doesn't have that voice of authority that Furukawa Makoto (Miyuki's VA) has. I appreciate the blonde hair bleaching, but his voice is making it hard for me to sit in.
Asakawa Nana is the REAL MVP here. Her voice is spot-on, her portrayal is spot-on. Her voice somehow manages to match Kohara Konomi's, nearly 90%. Her portrayal is flawless. If even Chika fails to match, I probably would have walked out of the film. But yeah, I managed to get soime form of enjoyment just by watching Chika in the film. Big props to her.
Sano Hayato nailed Ishigami pretty good as well. He portrayed as Tsutsui in the Real Girl live-action, I feel like this role fits him pretty much perfectly.
Hotta Mayu got did a little dirty by the production, the cosplay feels a little half-assed. Portrayal still spot-on, but the cosplay, yeap, a little half-assed. Kind of bummed that didn't go all the way in.
Fukao Amu's cosplay is just straight up low effort. The portrayal is pretty decent.
The other characters are still pretty nice, I would call this show to have the most comprehensive cosplay make up, if they didn't screw up some of the cast.
Scores:
Story: 8.5/10
Music: 7/10
Cast: 9/10
Recommended? I really don't think so. If you haven't watched the anime, you can give it a try. As for those who already finished both seasons of the anime, don't expect anything too surprising.
I might want to do a comparison post between the anime and the live-action, but we'll see. It's going to be hard since the story change in the later parts of the film makes it hard to really compare.
That's all for me today. More impressions for Summer coming in the next weekend. I will see you guys then!