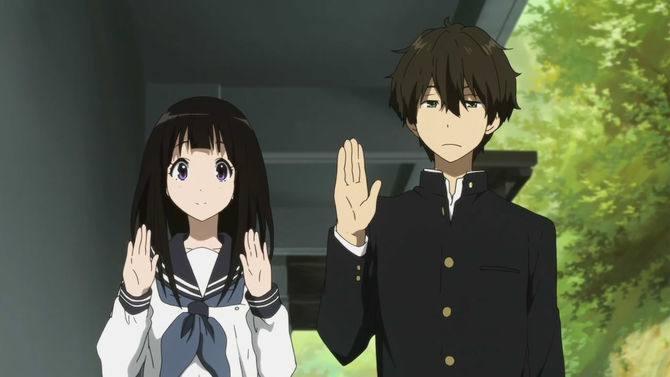 Hi hi, that week of break felt really great.
But sadly, I was mostly procrastinating for most of the week. At least I managed to finish Hyouka.
This show was actually kinda left to dust by me for about 2 years as well. I last watched it back in the army, during a period which any show would just entertain me, apparently this one didn't. Even in 2020, I still don't get the charm of this show.
Novel origin, anime lasted for 22 episodes with an OVA. Weird episode count, but I guess its better.
Story
This show is amazingly flawless in terms of the plot, but I cannot find myself enjoying this show at all. It's not a bad show, but a show probably I just don't like it.
I feel like Eru is probably the only driving force of this show, if I'm being blunt. I cannot envision myself to keep watching this show if Eru wasn't around. The whole atmosphere is so gloomy and even Eru sometimes cannot even lift up the mood.
Hotaru is a slightly relatable character for me since I would probably wouldn't really care about what things are happening around them, but would still help out anyway. But I feel like focusing too much on Hotaru made the whole atmosphere looked rather grim. It gives off a bit like a mystery Oregairu, but I don't like the formula.
The whole mystery slice-of-life combo isn't working here. The gloomy ambience is just covering everything else. There isn't much slice-of-life as well. I wish the whole mood would be a lot more brighter just to liven up the show a little, and also gives me more energy to focus. The plot energy is just so low that it's hard to sit down and watch for long periods.
Pacing is a little slow, but the arcs are evenly spaced out so none of the arcs are rushed or dragged.
There isn't much of a climax, since there isn't any buildup. The ending was rather open so it made my already bad viewing experience even worse.
OVA comes in as a fanservice episode so it looked rather okay.
Overall, not a big fan of the show. Its dreary, probably I picked the worst timing to watch this. But even on a good day, I don't see myself enjoying this show anyway.
Animations
KyoAni, obviously.
I loved it, no doubt. Animation quality is above-average from shows in 2012, and it still looks great even in 2020.
I like the character designs, everything looks sharp. Bloom is used appropriately. Some scenes had chromatic aberration as well.
I like everything about this show, aesthetically.
Music
The songs were a mixed bag, but the OST itself sounds pretty solid.
The OST even surrounds itself with the gloomy atmosphere, which docks a few points away.
Did it provide the show with more mystery? I would say no.
I feel like the OST is a great soundtrack if you have trouble sleeping in.
Voice Cast
The list is pretty stacked, even in 2012.
| | |
| --- | --- |
| Characters | Voice Actors/Actresses |
| Oreki Hotaru | Nakamura Yuichi |
| Chitanda Eru | Sato Satomi |
| Fukube Satoshi | Sakaguchi Daisuke |
| Ibara Mayaka | Kayano Ai |
| Irisu Fuyumi | Yukana |
| Eba Kurako | Yuki Aoi |
| Nakajo Junya | Kondo Takayuki |
| Haba Tomohiro | Abe Atsushi |
| Sawakiguchi Misaki | Ise Mariya |
| Oreki Tomoe | Yukino Satsuki |
| Itoigawa Yoko | Koyama Mami |
And so on… this show has too many characters.
I generally liked Satomi's characters, but her voice for Eru can get a little annoying especially when she has a catchphrase.
Nakamura Yuichi did a pretty good job as Hotaru. Kayano Ai's tsun role can get on my nerves sometimes, but she sounded okay.
The rest of the cast did their jobs nicely for sure.
Scores:
Story: 7.5/10
Art: 8.5/10
Music: 8/10
VAs: 8.5/10
Recommended? I don't think so. The story is polished that's for sure, but I don't think this show was THAT entertaining. But if you are looking for a show to waste your time with, it can be a candidate. 22 episodes is a little shorter than the usual, but the slow pacing will make time pass a little faster.
That's all for this one. I am going to watch the live-action one and get the review out in a few days. If I could, maybe tomorrow.
I will see you guys soon.