Hi I'm back, for another weekly post content.
Sorry this one was later than usual, Call of Duty got my weekend occupied. What can I say? I'm a gamer.
But whatever, let's get the show on the road.
Africa no Salaryman
This show is pretty darn amazing. They are toning down with the CGI scenes, which is pretty weird. Not going to lie, I kinda enjoyed the show for the boldness of their CGI usage.
Not going to drop this, this show is pretty darn amazing.
Assassin's Pride
This show is starting to be rather decent. Just waiting for more stuff to go down. The OP music sounds nice, but the vocals are piercing my ear drums, so it's an awkward combination.
Not dropping just yet.
Azur Lane
I cannot drop this. The story is moving so nicely, and is actually better than Kancolle. Yes I am going admit that this show is better than Kancolle, story-wise, but animations-wise, I prefer Kancolle.
The OP is pretty darn nice, ED too. My shipfu is slowly tilting towards Belfast… or Edinburgh… I don't know… I need Hood to keep me alive…
Boku no Hero Academia 4
So far so chill, I think this season will probably won't develop until 3/4 of the season. I am pinning my expectations a little lower at this point, but I don't think I will drop this anytime, I grinded this show since the beginning, I don't wanna end it now.
Oh yeah, this OP has to be the best of all the seasons. It really showcases the legacy that this show has created.
Bokutachi wa Benkyou ga Dekinai!
So far so good. Still prefer the first OP, but yeah, Rizu is now full swing top of my list, then Uruka. The hair extensions and well-endowed rack really pushes her charm up to the max with the right clothing, make-up and hair… I think she will look pretty cute with glasses on with that makeover too.
I wish they can bring out Fumino's charm soon as they were extremely lacking in that aspect, making her look pretty typical.
Well, not dropping, and hopefully a better Fumino episode.
Choujin Koukousei-tachi wa Isekai demo Yoyuu de Ikinuku you desu!
Chances of dropping this show is pretty darn high. I am not feeling this show one bit at all.
I might drop this next week if the show doesn't pick up…
Fairy Gone 2
Another show in the potential drop list. It really shows that P.A.Works isn't trying at all.
I think I will give this one 1 more episode and then decide about dropping next week.
Fate/Grand Order: Zettai Majuu Sensen Babylonia
This show is less serious than I thought, but I like it. The Kenichi x Maaya married couple combo pairing is just impeccable. You really cannot fault them.
But as for the rest, I am enjoying pretty much everything. Gilgamesh is funny.
Not dropping, too good to drop.
Honzuki no Gekokujou: Shisho ni Naru Tame ni wa Shudan wo Erandeiraremasen
The show has decent comedy, but really lacks context so I am pretty much abandoning the fact that they will try to give us an actual premise. I am just going to enjoy the story as much as I can.
Dropping this show is going to be a hard decision.
Kandagawa Jet Girls
Despite enjoying the fanservice and all, I might drop this one soon.
This show really lacked the story to drive the entire plot and they are just throwing in fanservice, knowing the fact that they wrote a pretty horrible story.
I will decide next week if I wanna drop this show.
Ore wo Suki nano wa Omae dake ka yo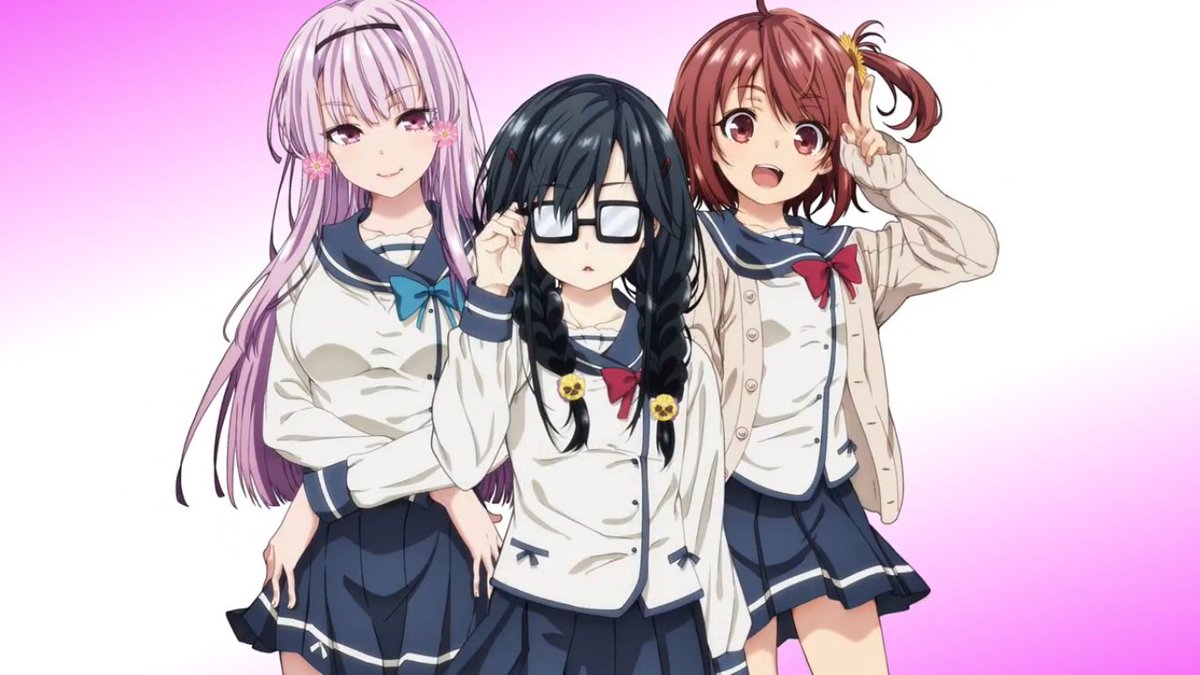 I am moving on from Pansy to probably going full-time with Cosmos. I am really love Misawa Sachika's voice here, which I think a lot of her prior roles really lacked to showcase her abilities.
Not dropping, the story is constantly spicy.
Rifle Is Beautiful
This show is pretty chill, I like it. I need more of such chill shows this season, after so many messy seasons prior.
Not dropping this one ever. I need more chill shows… Things are hectic and this is a good stress reliever.
Shinchou Yuusha: Kono Yuusha ga Ore TUEEE Kuse ni Shinchou Sugiru
This show is also another frigging good show. I really love Toyosaki Aki here. Her voice is pretty much showcasing her versatility and experience. That aside…
The story has been great so far, nothing much to really complain about at this point. Won't drop, can't drop, impossible to drop.
Shokugeki no Souma: Shin no Sara
I love it so far, the tactics they used seems typical, but nothing beats some good cooking. The show will just keep heating up to the end so I really can't wait to the end, but I lowkey wish this show is 2cour…
Sword Art Online: Alicization – War of Underworld
This show is only one-cour, they promised a year long of Alicization. They might be pulling off another break season after this cour, then continue at Spring. Judging from the story right now, I don't think they are ending anytime soon.
Hopefully Ono Manabu doesn't butcher this.
Watashi, Nouryoku wa Heikinchi de tte Itta yo ne!
So this is going pretty well, isn't it? The overly OP main heroine plot may be rather generic at this point, but they are doing everything they can to not make the story become generic at any point.
I don't think I will drop this, I am curious to see how OP she can get.
So yeah, that's it for my season. Bananya is also another cute chill show, I love the story continuity so far. Enen no Shouboutai is moving on pretty nicely too.
I think that's it for this post. Sorry that this post is a little short, and also a little late. But at least I wrote it.
I will see you guys next week for the 3rd week impressions!!!