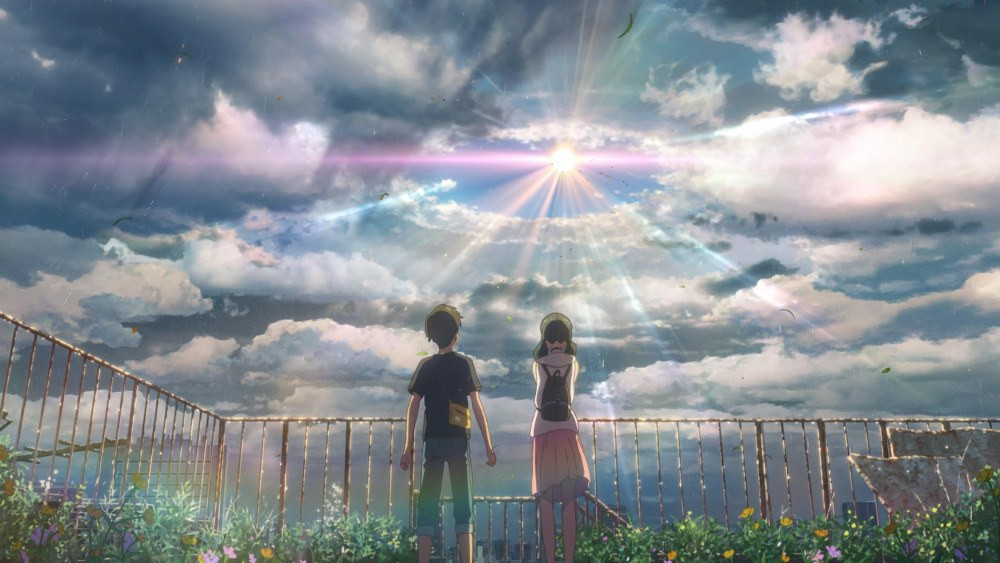 Hi hi, yes I have finally watched this film. This one took quite awhile because of life stuff as usual.
A 112mins film about a girl with the powers of a weather maiden. I would say its at an adequate length, but it does feel longer than 112mins. Original film by our favourite Shinkai Makoto
The time gap between this and Your Name isn't all that very long so people might strike a comparison between them. And also, I will try to keep the spoilers at a minimum here.
Story
Personally, if I were to compare this with Your Name, Your Name is significantly better. But I didn't watch Your Name, I probably will hail this movie to be my greatest movie of all time. But it really isn't.
The story starts off in a very "Makoto" fashion, near zero context, just a character building up his own plot. I personally like this kind of storytelling. It makes us unable to predict the story or just makes me wanna keep guessing the story.
Story pacing is pretty adequate, it does feel a bit slow, and the slow pacing pretty much lasts all the way throughout the movie. Even the climax didn't pick up much pace.
The world building and story progression was pretty decent for the most part. But I think the buildup to the climax felt pretty weak and the climax was too short.
It lacks the climatic challenge and emotional ride that Your Name has. It felt pretty darn short too.
The ending was decent, despite that open ending like Your Name. The difference here is that Your Name was a little more satisfying. Because of the quick climax, the ending felt rather abrupt.
I personally still enjoyed the film for what it is. I think the emotional and cultural impact of Your Name hasn't really wear off yet, which kind of makes this movie looked a little bit on the weaker side. But Your Name was such an epic production that I think it is going to be a challenge to top that level. Overall, it is a pretty solid production, but Your Name might have undermined it a little bit.
This movie also has some cameos of Taki and Mitsuha so I enjoyed that little moment of that.
Animations
CoMix Wave Films is in-charge, pretty much like most of Shinkai's works. I have to say, this movie lack the vibrancy of Your Name, but their 3DCGI techniques they used here is a lot better than before.
Character designs are pretty much like Your Name, but the new characters looked pretty refreshing.
Their 3DCGI textures used here are extremely high quality. The building looks like they came out of Google Earth.
Their scenery panning shots are also extremely well done. The moment during the rooftop panorama scene is extremely well done. The character models pans like they are all drawn frame by frame, making the panning looked extremely seamless.
The colors lacked vibrancy probably because of the constant rain and overcast weather. But during that brief moment of sunshine, the colors come shining through. The water reflections looked pretty nicely done too.
I can be a little nitpicky here, but really, Your Name has set a lot of benchmarks here and there.
Overall, it's still an amazing looking film outright, but I wish there are more vibrancy here despite the gloomy weather.
Music
RADWIMPS again composing so nothing will go wrong. In fact, I think I like the OST here more than Your Name.
They didn't throw the awkward OP in this film so it feels like a movie. There are also a lot little random RADWIMPS singing moments here which kind of sucks as I wish they could throw in more inserts.
But anyhow, it's still a damn solid OST throughout.
Voice Cast
Daigo Kotaro, Mori Nana, Oguri Shun, Honda Tsubasa, Baisho Chieko, Kiryu Sakura, Hiraizumi Sei, Kaji Yuki, Sakura Ayane, Hanazawa Kana.
Kamiki Ryuunosuke and Kamishiraishi Mone are back for their cameos too.
The live-action actors voice acting are pretty darn solid. I can never imagine Oguri Shun voicing such a guy EVER. They really picked the rights guys and girls for this movie.
I really loved their voices.
Scores:
Story: 9/10
Art: 9/10
Music: 9/10
VAs: 9.5/10
I personally highly recommend this film. A Shinkai Makoto film never goes wrong and it shows here. I really love it, despite the comparison to Your Name.
But to be honest, this movie didn't get that much hype compared to Your Name, at least in my area.
So… That Climate Change Vibe…
To be quite honest, I do not get the whole "Climate Change Message" thing. To me, this movie is just a girl who is able to somewhat control the weather.
But if people just want to relate this to climate change, then sure. It is a pretty positive message about it. Sea levels are constantly rising.
So that will be all for me today. Next post will be the Fall PTW and that will come either Monday or Wednesday. After Fall post is done then yeah, Summer wrap-up. YU-NO ends the latest which is why the post had to be snowballed.
I will see you guys either tomorrow or Wednesday!