Well well well… Why didn't I watch it last season?
I WAS BUSY AND I PICKED UP TOO MANY SHOWS ALREADY.
But never late than never. I think I made the right decision, because this show is such a wonderful way to marathon in.
Manga origin. 12 episodes of near death experience after near death experience. I think I will rewatch this one again, I must. There is an OVA coming at the end of the year, Boxing Day actually.
Story Is Too Much For Me To Hold Back My Laugh In Trains.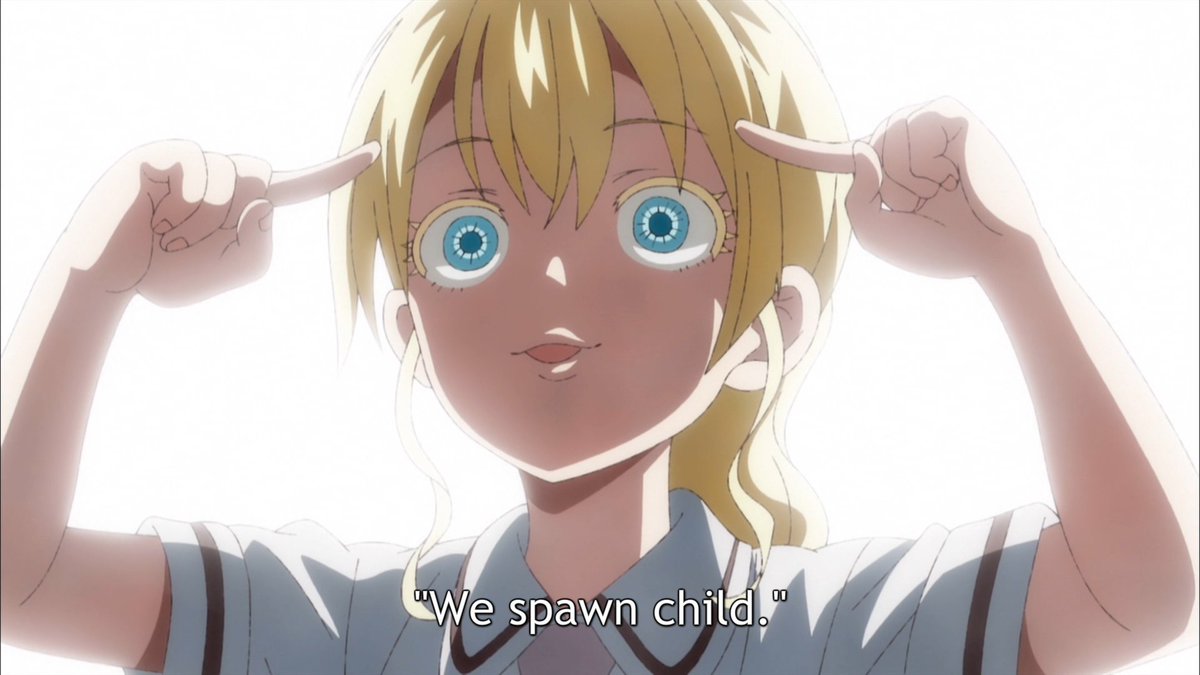 It's too funny. I thought it's supposed to be a fun show about kids having fun playing old pastime games.
But I was absolutely wrong.
This show has pretty much me laughing and liking Kasumi's overcompetitive nature. She's an absolute beast. Even though the show is split into 3 different parts per episode, there is a certain link to them. I love everything about the show. Kishi Seiji is a genius at this.
Characters are also ridiculous in their own ways, not just personalities, but also their physical status.
Actually did watch one of the episodes on the train and guess what, the guy beside me watches it with me and he was nodding like "Yeah, good show."
The ending felt very abrupt, like… is that even an ending? Well we have an OVA coming so I will wait for that.
Animations Looks Simple, But Still… THAT'S NOT THE POINT
Lerche is in-charge. I love the character designs, the girls looked great. The animations looked simple, light but when the situation arises, the animations takes a 180 degree turn.
It's entertaining to watch. I love it.
Music Is Funny Too, I Don't Know Why
It's great, I love it.
The sound effects during the dramatic moments made me laugh for some reason. Save me.
The OP looked misleading and the ED is just wonderful.
The Cast Fits In Too Perfectly.
The girls are great at their roles.
Kino Hina, Nagae Rika, Kohara Konomi, Maekawa Ryoko, Okiayu Ryotaro, Inoue Honoka, Kanazawa Mai, Toda Megumi, Yuki Aoi, Masutani Yasunori, Saiga Mitsuki, Fudemaru Eishin.
I cannot stop laughing, their versatility in their voices is incredible. I love them.
Score:
Story: 9/10
Art: 8.5/10
Music: 8/10
VAs: 9/10
Highly recommended if you are looking for something to laugh and start an asthma attack with.
Posts will be sporadic this week because
I IS GOING TO HONG KONG NEXT WEEK AND I DIDN'T EVEN PACK ANYTHING YET.
So yeah, I will push out the Fall 2018 last round post a bit later but I will try to write as much as I can before I leave for Hong Kong.
There is will be a post on Friday so yeah, see you guys then.