Yeah, something to brag about… Twitter followers.
I have hit 800 followers on Twitter a few days back, so thank you for the follows, even though it's filled with rants and quite a bit negative shit. If you haven't follow it yet, here you go, click me!
So, I have been binge watching a lot of live action movies for the past 2 weeks and they did a great job changing my impression of them, or maybe because I picked the movies carefully.
So I will be listing 5 movies that is worth giving a shot if you don't like live-action adaptations. As usual, no ranking whatsoever.
1. Ore Monogatari
Probably one of the most well reproduced movie I watched so far. The resemblance is just flawless. I really love this movie, I couldn't stop laughing at the movie for how relatable it is towards the anime. Rewatched it dozen of times and still not over it yet.
I will be writing a full length review sometime soon.
2. Tokyo Ghoul
Another good one. The visual effects were incredible even though their budget is below average. Cinematography is equally great as well. I really wish they make a 2nd movie, adapting all the way to :re, it would be wonderful.
Full length review after Tokyo Ghoul:re officially ends.
3. Narratage
Live action is probably the only way for this one, it will look too serious for an anime, and it's also touching a rather sensitive topic of teacher-student relationships. Live action can also tell a more emotional story better, sending the message more effectively. I was hoping for a more proper ending but well… what can I say.
4. ReLIFE
This is another great adaptation, but one of the roles got rewritten so it's not a perfect 1-to-1. But overall it's a great movie with some slight flaws here and there.
5. Let Me Eat Your Pancreas
I would say this one took me on an emotional ride which i relate pretty badly towards my IRL. I did say I want to write a self-reflection about this, but after watching it twice, I'm starting to hesitate about it. We'll see if I'm ready to open up about it.
But simply put, this movie is good, give it a try and you are in for a roller coaster.
Honorable mention is going to be Heroine Shikkaku. The ending really did turn me off.
That's all for the main 5 picks,
but… IT'S NOT OVER YET. There are animes that I dream of turning into live action so I'm going to list another few more…
1. Hataraku Saibou
Just started picking up the show and it's rather… educational? I guess a live-action adaptation will work out nice.
2. Sunohara-sou no Kanrinin-san
This one is so laidback, I wish it can be one of those chill movies that are rather therapeutic.
Sounds weird, but that's how I wish it going to be. But this one getting a live action is highly unlikely.
3. Tsuki ga Kirei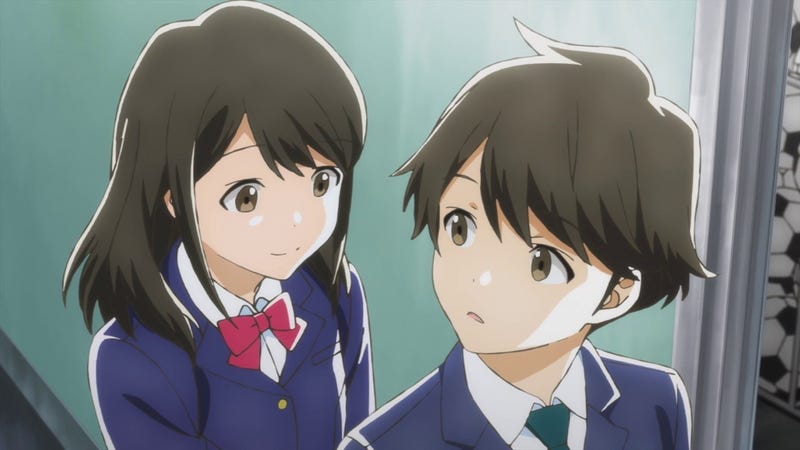 This definitely needs a live-action. A live-action film will make this story be way more effective in pushing the emotions. I really would love to see it happen.
Meanwhile I can't wait for 3D Kanojo's live action, it looks extremely well done, according to the trailer, so hopefully it will come to my place.
That is pretty much it for this post. I want to thank you guys again for the Twitter follows.
And now we march to 900…