Heyo, it's time for me to do another long post of the week… I might be dropping shows, unfortunately.
Grand Blue
Eps: 3
This is something I can never drop. I really miss those old school comedy stunts which current anime is severely lacking at the moment. It really brings me back into the 2000s when if it's a comedy anime, you are guaranteed to have a blast watching it.
So I will be keeping this one.
8/10
Harukana Receive
Eps: 4
This one is probably one of the nosebleeding shows for this season. The attention to detail of… the… asses… is just… wow.
Putting that questionable element aside, this show is going on the good direction. Things do start off slow and bland, but I like the character developments and how deep the character backstory can go. Definitely can't drop this.
8/10
Hyakuren no Haou to Seiyaku no Valkyria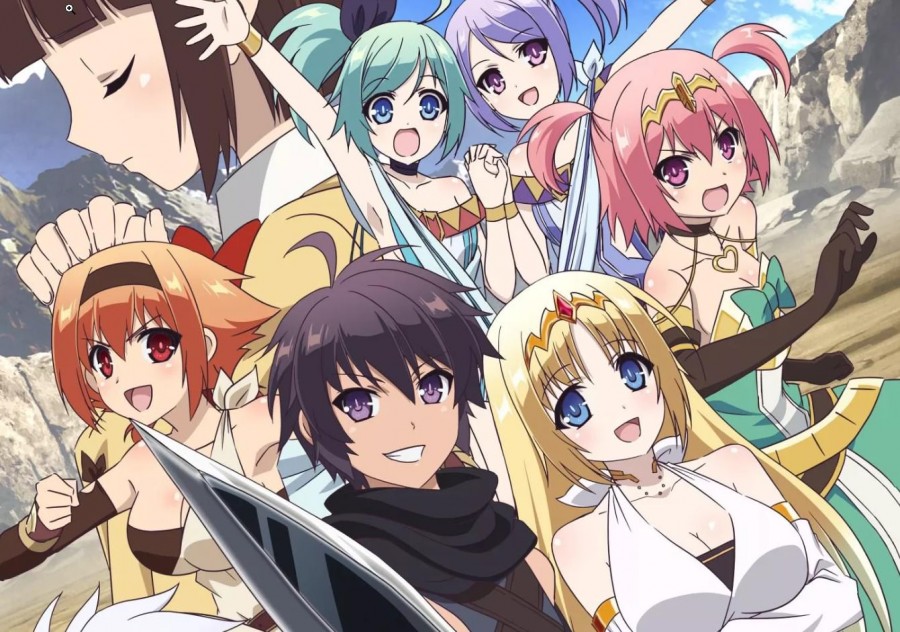 Eps: 4
We are already 4 eps in AND WE STILL HAVE ZERO CONTEXT ON HOW DA HELL HE ENTERED THIS WORLD.
The story is very Utawarerumono-esque in terms of pacing and character development. It's not ALL that boring, but there is some form of stagnancy in terms of story development.
I really think putting the backstory and context too far back into the show is going to backfire and eventually lose time to pull off a proper climax in this series, if there is even one.
But I still can't drop this show, for the sake of Felicia.
7/10
Isekai Maou to Shoukan Shoujo no Dorei Majutsu
Eps: 4
This one… is… just wonderful.
I love this one inside out. I even have some of Shera's noises as my notification tone. I definitely can never drop this show. Good music, good plots, good questionable scenes. I wish I can get stuck in such a world.
8/10
Island
Eps: 4
The story is turning bland for some reason, but still rather manageable. The story is going into the individual character arc phase, so things will get rather episodic, before he hit the main arc of recovering Setsuna's memories.
Not dropping, it's been awhile since I last heard Tamura Yukari so I will definitely not drop this.
8/10
Kyoto Teramachi Sanjou no Holmes
Eps: 3
So far this show is progressing is damn slow… Way too slow to grab my attention. But I don't think I will drop this one, because it is an interesting setting and concept. The blend of romance is rather great too.
8/10
Ongaku Shoujo
Eps: 4
Yeap, not a fun show as I expected, but I don't think I will drop it.
I find it rather illogical of them to only use Ogura Yui to do the OP, when they have a full scale idol group.
Storywise, this week is rather cheerful and I think it's starting to pick up, but at a very slow pace. Still very displeased about how Eri and Haru's personality changed.
7/10
Satsuriku no Tenshi
Eps: 4
There is a little more comedy than the last ep, and the darkness of the show is starting to fade. I wish the pacing could be a little faster because there are times when story becomes slightly stagnant. Plot twists is slightly lacking, but I won't drop it. This show has potential, it's up to J.C.Staff to pull it off.
Shichisei no Subaru

Eps: 4
DROPPED.
The intro was very promising, but progress is incredibly slow. For a moment I thought this show will invoke some serious feels, but so far it's just bland storytelling all over. These type of stories are meant to be short and not suitable to drag.
As the story drags, flaws are starting to show, and it's very very bad.
So yeap, dropping this one. It's going to be a waste of time.
Sunoharasou no Kanrinin-san
Eps: 4
Not dropping for sure.
I really love the subtle romance floating around the show and it really is a heartwarming show. The pacing is just right and the comedy is on-point most of the time. A near perfect show for my poor soul.
8/10
Yuragi-sou no Yuuna-san
Eps: 3
Another great show to turn me on at the wrong moments. Story may not be going anywhere, but its the comedy and the awkward moments that keeps the story going. It's too good to drop.
7/10
Akkun to Kanojo is still in my list so yeah, I'm watching that.
So yeah, that's it for the weekly impressions stuff. I dropped Subaru for good, I genuinely never felt so hyped at an intro so much that the show threw the viewers aside to drag the story out.
Next long post will be by the end of the season.
Writing will be rather slow this week too, since work and school is bogging me down. See you guys.