Yo, time to write more reviews.
2nd week of Spring is done, and it feels weird. Because the animes I picked up this season is a lot more lesser than usual, the entire week felt pretty damn slow.
3D Kanojo: Real Girl
Eps: 3
It's great. I like the awkward the romance is especially for an otaku. Pacing is kind of on the slow side, but this show deserves to be slow and sweet. Getting used to the main characters voices now, their chemistry is pretty damn good. Nothing to nitpick to be honest, even I love Aoi Shouta's role in the show, its freaking nice. Probably my antidote for the season.
8/10
Alice or Alice: Siscon Niisan to Futago no Imouto
Eps: 3
The siscon fuel show. Nothing but siscon elements.
Absolutely amazing.
7/10
Mahou Shoujo Site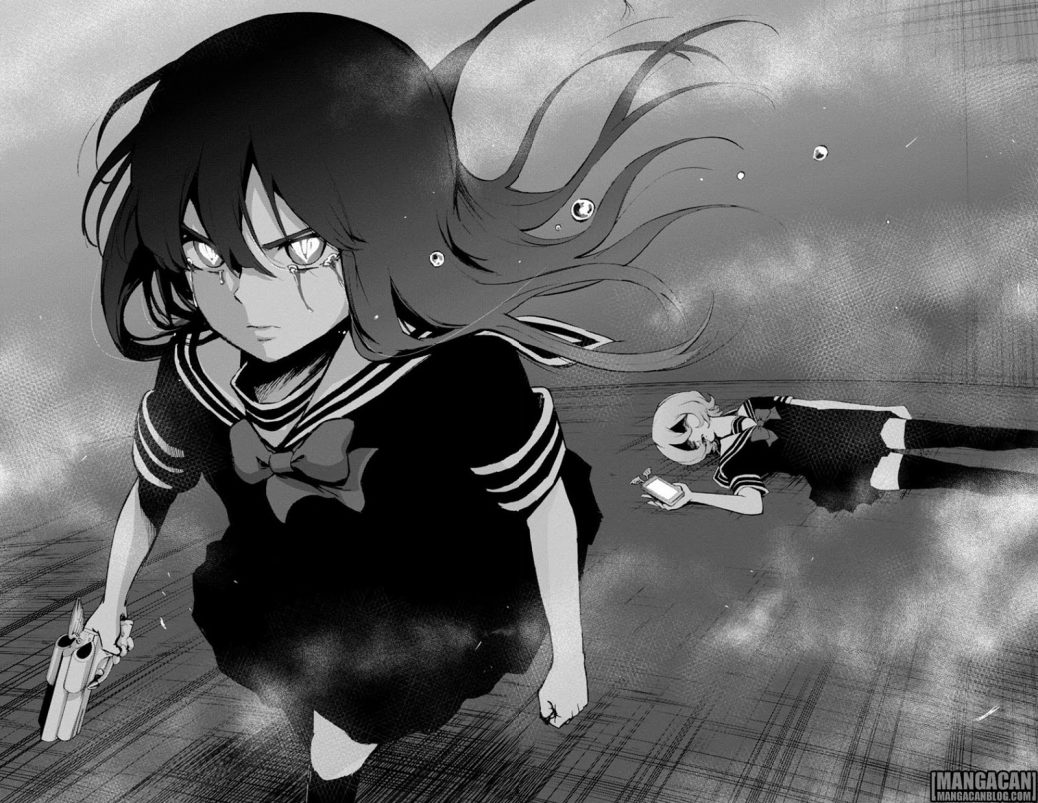 Eps: 3
So far so great. Darkness keeps on coming, ED fusion of live action and animations is very fresh. Just when I thought there is a pretty positive mahou shoujo on this ep, turned out to be another Gasai Yuno-esque character. Can't wait for more. I need more darkness.
HYAHAHAHAHAHAHAHAHAHAHAHA
7/10
Shokugeki no Souma: San no Sara – Toutsuki Ressha-hen
Eps: 2
This show so far so great, pacing felt pretty damn slow though. Still waiting for action. No more Nano.Ripe doing the OP feels great.
7/10
Sword Art Online Alternative: Gun Gale Online
Eps: 3
Studio 3Hz has clinched it to be honest. Story pacing is decent, character designs were pretty similar to A-1's but without copying it completely, giving off a sense of unique style of the studio. Can't wait for more, since they keep talking about guns and I became stoked.
8/10
Tachibanakan Triangle
Eps: 3
So far so awkward? I never felt a show this awkward in a long time… especially in the Yuri realm. It is pretty open with the yuri stuff, but it felt pretty forced, pairings are too weird and personalities can be pretty clashing. But I won't drop the show, its Yuri, its immune to all charges.
7/10
Tokyo Ghoul:re
Eps: 3
So far the gore, not sure if they totally omitted the scenes or it is the story itself. Touka finally appears with her mature self, immediate waifu. Can't wait for Haise to get his memory back to go back to Touka. KYAA ANOTHER ROMANCE ANIME IN THE WORKSSSS
8/10
Wotaku ni Koi wa Muzukashii
Eps: 2
A-1 strikes again with the slice-of-life clutch. A-1 should stick to making such shows, they understand the market now, so they can write the story so greatly without turning off the viewers. Can't wait for more.
8/10
That's pretty much it for this week. So far so great, no screw ups and anything. Pretty confident that I don't need to drop any show this season.
I also want to relay my thanks for the support I have been getting on the novel, I personally think its not THAT great, and wasn't expecting a response like this. So, I wanna thank you guys for the support of the novel. I will write as long as I can.
See you guys next week.
Meanwhile, if you are new and enjoy reading my content, follow this blog, Twitter and Twitch! I do gaming livestreams too. I have 2 Twitter accounts by the way, but it's up to you if you want to follow both.
I'm currently fundraising for my blog fees so if you want to support me, you can donate at the top right of this post. Or hit up the affiliate links, it also supports the site. If you want to support my Twitch livestreams, just turn up on my streams.
I also have a Patreon and Ko-fi if you want to support me.