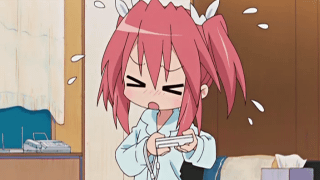 Hello all, back to writing blog posts again… My throat is getting better but still sound a bit coarse.
Now back to regular scheduled 30Days spamming.
This is a rather interesting topic because I have many worlds that I want to be in… To be honest, I wish SAO is a legit game so that I can actually state it as a world I want to be in. There are SAO games right now but their setting are pretty tragic to be in so I will pass.
The world I want to be in would probably be…
Fairy Fencer F
This world may be even more tragic than the SAO games I mentioned earlier, but the adventures in that game is seriously entertaining.
It gives off a Victorian vibe to its houses and it looks great, looks nice and cozy too. Furniture looks pretty classy. I would love to live in one.
The adventure side of things, it has nearly infinite amount of possibilities. You pretty much can hunt monsters as a full-time job, it may be tiring but it's fun. Probably will never get sick of it.
Getting married and have a family there will sound pretty awesome too… Ok, I am getting a bit too far-fetched so I'm just gonna stop there.
A honorable mention will be Gamindustri… Preferably Planeptune… Because purple is my favorite color and I can be full-time gaming streamer there I guess LOL.
Well, that's it for this one… The next post will probably be rather… erm… spooky? I guess.
Meanwhile, if you are new and enjoy reading my content, follow this blog, Twitter and Twitch! I do gaming livestreams too. I have 2 Twitter accounts by the way, but it's up to you if you want to follow both.
I'm currently fundraising for my blog fees so if you want to support me, you can donate at the top right of this post. Or hit up the affiliate links, it also supports the site. If you want to support my Twitch livestreams, hit up my Amazon wishlist and gift me a mic, I will worship you.
I also have a Patreon and Ko-fi if you want to support me.