TIME FOR DAY 1, my first video game…
I started gaming when I was… 10? Yeah, my mom bought a random video game for me back then, but I'm having memory conflicts with whichever game comes first, so I'm going to list a few games.
Gunmetal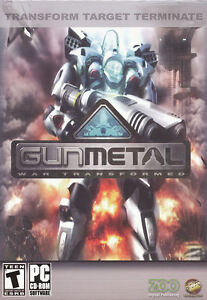 One of my first and also favourite. Back then when my old PC was rocking a Nvidia 6600GT and a Pentium 4, this game came and I played it for hours each day. This game is like a more less-advanced version of Starscream, but playing the good guys. Graphics looks great back then and still looks pretty decent now.
Running on DirectX 8.0, so don't expect any fancy things about this one. But it will run on nearly anything, even your Intel GPU.
This game is still available on Steam for around 3 bucks.
Escape from Monkey Island
Not a great game, was still rocking that P4 + 6600GT setup. Graphics is just utterly horrible and it looks low-budget. Storyline wise was also very uninspiring, even the kiddy me gave up on the game halfway.
18 Wheels Of Steel: Convoy
This game lead me to an addiction towards trucks and now I'm still playing Euro Truck Simulator 2. This one was on the later side with my P4/6600GT died and had to get a newer PC. I ran this game with Pentium D and 7600GT and 2GB of DDR2. Smooth at max settings. This game was pretty damn lightweight for its age, but I probably go for the modern American Truck Sim if you ask me.
That's it for Day 1. My game catalogue didnt go mainstream until I gotten my first HP laptop back when Beats on HP PCs are still a thing. Had an i5-2450M with HD7470M Overclocked graphics and 8GB of DDR3 RAM.
Meanwhile, if you are new and enjoy reading my content, follow this blog, Twitter and Twitch! I do gaming livestreams too. I have 2 Twitter accounts by the way, but it's up to you if you want to follow both.
I'm currently fundraising for my blog fees so if you want to support me, you can donate at the top right of this post. Or hit up the affiliate links, it also supports the site. If you want to support my Twitch livestreams, hit up my Amazon wishlist and gift me a mic, I will worship you.