Hey all, looks like this will be my last 2017 wrap up post, but not the last post of 2017, because Nanoha Reflections is coming in a few days so I will be writing a post straight after the movie.
I will be listing anime studios in 2 main categories, animation and character designs. Animation consists of backgrounds, colors ete etc. No rankings whatsoever, as usual.
Animations
1. Studio Gokumi
Works this year: Seiren (with AXsiZ), Yuuki Yuuna: Washio Sumi and Yuusha, Tsurezure Children, Kin-iro Mosaic: Pretty Days (with AXsiZ).
Quite a lot of works from them this year. I love their animations for Yuuki Yuuna and they maintained throughout. Their animations suit nearly all scenarios, Seiren looked great with their production.
2. Silver Link
Works this year: Chaos Child, Masamune-kun's Revenge, Busou Shoujo Machiavellism, Battle Girl High School, Isekai Shoukudo, Two Car, Imouto Sae Ireba Ii., Fate/kaleid liner Prisma Illya: Oath Under Snow
Many works by them, and only 2 done by Onuma Shin. Looking at you Shaft. They are pretty versatile. Illya's animation sequences never cease to impress me, Battle Girl High School was decent, not great. Isekai Shoukudo is their weakest link this year, J.C.Staff can make better food porn.
3. J.C.Staff
Works this year: Urara Meirocho, Minami Kamakura High School Girls Cycling Club, Schoolgirl Strikers, Alice to Zouroku, Twin Angels Break, Dungeon ni Deai wo Motomeru no wa Machigatteiru Darou ka Gaiden: Sword Oratoria, Vatican Miracle Examiner, UQ Holder!, Souma S3, Children of the Whales.
A lot of shows from them this year, 3 seasons where they adapt 3 shows in that season alone. Quite a feat. Standards are pretty subpar from them, but I have to give it to them for making Souma, UQ Holder better looking than it should. Shaft still did a better job at that Mahou Sensei Universe, but J.C.Staff did a decent job. Sword Oratoria looked pretty decent too. Let's see if they can pull it off for One Punch Man S2 and Index III next year.
4. Feel.
Works this year: Tsuki ga Kirei
Just 1 this year and it's enough to warrant it into the list. One of the most unique style of animation this year. I absolutely love it. Subtle colors making it look like a work made out of light-colored crayon.
5. Lay-duce
Works this year: Fate/Grand Order, Itsudatte Bokura no Koi wa 10 cm Datta.
I think they made the Honeyworks how looked better than what Qualia did for the 2 movies. Fate/Grand Order looked great.
6. Kyoto Animation
Works this year: Free! movies, Hibike Euphonium movie, Kobayashi-san Chi no Dragon.
Kobayashi isn't really using much of their abilities, but the rest made it up for it. I watched Koe no Katachi only this year I absolutely loved it, so I have to put it up into the list.
7. Diomedéa
Works this year: Fuuka, Aho Girl, Action Heroine Cheer Fruits, Boku no Kanojo ga Majimesugiru Sho-bitch na Ken (with Studio Blanc)
I watched Kancolle movie only this year, so I have to put it in account. Fuuka looked great, Aho Girl is just comedic. I think they are starting a trend of hiring Kusakawa Keizo of being a director for their shows. It's not bad, just slightly worrying. Can't wait for my Kancolle S2. Shobitch is just bad, even with 2 studios doing the show, they really have no excuse for the irregular animations. I will not include them in the Character Design section because of this, even though they did an excellent job with Aho Girl and Fuuka.
8. Dogakobo
Works this year: Gabriel Dropout, New Game!!, Hina Logi, Himouto Umaru-chan R
A great year for them this year. They up their game with New Game's animation this year. Kind of sad they didn't do the same for Yuru Yuri.
9. Production I.G
Works this year: Mahoujin Guru Guru, Welcome to the Ballroom, Kuroko's Basketball: Last Game
Mahoujin is just great. I love it. Old school JRPG style of animations with pixelization is just comedic. Love it.
10. White Fox
Works this year: Zero kara Hajimeru Mahou no Sho, Girls' Last Tour
Zero wasn't that bad, I would say standard White Fox quality, compared to Tears to Tiara. White Fox really did polish themselves after Re:Zero happened. Hopefully 2018 will be the same.
Honorable Mentions:
Production Reed (Isekai wa Smartphone to Tomo Ni)
David Production (Sakurada Reset)
P.A.Works (Sakura Quest, Eccentric Family 2)
Toei (Dragon Ball Super, Sekaisuru Kado)
Zexcs (Frame Arms Girl)
If you find it unfair, I'm sorry, I didn't watch Boku no Hero yet, I will watch it soon enough.
Character Designs
1. NAZ
Works this year: Hajimete no Gal
Animations may not be up to par for the year. But the character designs tells a different story. I am absolutely in love with Yame Yukana, not just the boobs, but her hair color, hair style and smile, oh my god. I can just keep going on and on, she's just something else. Time to read the manga.
I'm honestly struggling on deciding about changing my theme.
2. J.C.Staff

Well, Souma is still great. Even though they cannot replicate Shaft's quality for UQ Holder, it's still better than Xebec. School Girl Strikers was pretty nicely done, many many waifus collected. Sword Oratoria designs were ok, wasn't a fan of Danmachi's design in the first place. Wonder if they would keep the design for One Punch Man…
3. Silver Link
Fan of Busou Shoujo designs, Two Car, Battle Girl High School, Masamune-kun, but not for Imouto and Isekai Shoukudo. Well, they were sometimes hit and miss with the designs anyway, not really surprised.
4. Feel.
Tsuki ga Kirei designs were good enough for the list. Simple, yet impactful. Unique color palette.
5. KyoAni
Nice to stare as usual. Always loved their character designs. Must add.
6. Dogakobo
Strong comeback this year. Kikuchi Ai's designs are always great, Umaru was good too. Can't wait to see what they bringing next year.
7. A-1 Pictures
Works this year: Ao no Exorcist, Eromanga sensei, Saekano, Demi-chan wa Kataritai, Fate/Apocrypha, Blend S, Idolm@ster.
This year's quality is still pretty bad, but character designs were great. Ao no Exorcist, Eromanga Sensei, Saekano and Blend S carried this studio into the list. 2 SAO products coming next year, hopefully Alicization lived up to expectations.
8. Seven Arcs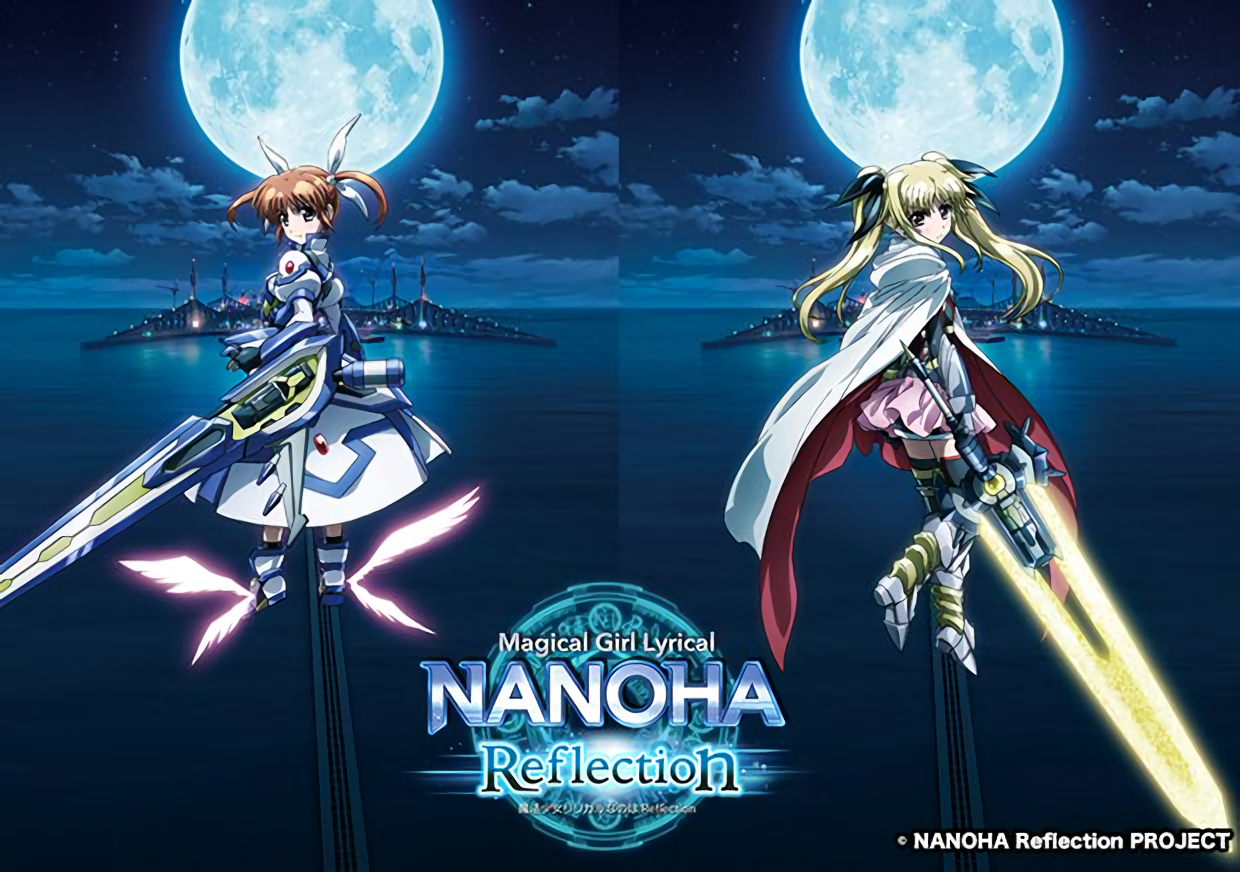 Works this year: Nanoha Reflection
Well, they revised the designs AGAIN. This time Fate looks like best girl now. The rest gets the same treatment, and it looks wonderful.
9. Studio Gokumi
Yuuki Yuuna, what flaws are there? This year we get more funny expressions. As for Seiren, I have always loved Amagami's designs and they brought it over, seldom looks better than the good ol' AIC designs. Tsurezure Children was just weird for some reason.
10. Lay-duce
They made it look better than Qualia, what can I say?
Honorable Mentions:
Kinema Citrus (Made in Abyss)
Brain's Base (Fukumenkei Noise, Kyoukai no Rinne S3)
Passione (Hinako Note)
EMT Squared (Renai Boukun)
Zero-G (Tsugumomo)
There are still studios lagging behind in terms of quality, hopefully they improve in 2018. J.C.Staff and Silver Link produced a lot of shows this year, with Diomedea and Brain's Base not far behind.
Well, this wraps up my pretty lengthy post. Nanoha Reflections will receive the honor of being my last post in 2017, will be out pretty soon.
Overall, 2017 wasn't a really a bad year for anime, but it feels like a decline for the past few years, and this is also part of it. Hopefully next year, One Punch Man, SAO or whatever I hyped for the past few months will probably bring 2018 up to back where 2010 was.
Meanwhile, if you are new and enjoy reading my content, follow this blog, Twitter and Twitch! I do gaming livestreams too.