Good afternoon, Winter is FINALLY ending, its like the longest and driest season i have ever faced so far. Bad start to 2016 I guess.
Spring is finally coming and I have to say, judging from the list, its pretty much the same as Winter 2016, except a bit better, maybe because I hyped some of them. I picked up quite a lot of shows compared to last season. And also Nijiiro Days is also on my currently watching list.
Asterisk War Season 2
Cant wait, even tho I hate the first season. Why? More Claudia, Season 1 ended right at the G-spot and finally more answers. Ono Manabu better do your fucking job.
Hundred
Why this show? Mainly to show my respect for Matsuki Miyu, she was actually casted for this show but now she's gone, and Horie Yui took over, but hey, its still going to be good. Who dont like Mechas?! A bit skeptical of Production IMS tho, should have gotten 8-bit to do it instead, from their experience of making IS. Hyped pretty hard even before I knew the cast.
Haifuri
Why this? Giving an original anime a chance, Yoshida Reiko on the script, pretty legit cast, all girls, and looked promising and lighthearted. Production IMS again, better dont disappoint, you somewhat redeemed yourself last year with Shinmai and DAL, better dont combo break this. My hyped hard show.
Kuromukuro
Yay~ another anniversary show, this time by P.A.Works. Mecha, checked. 3DCGI, checked. Original material, checked. P.A.Works is starting to copy what other studios are doing but even tho they cant do it. They are also starting to like to pick up materials that are VERY HARD to adapt, they most probably learned that from Shaft.
Netoge no Yome wa Onnanoko ja Nai to Omotta?
This show will end up being generic, but hey what could possibly go wrong with ecchi? Pretty legit cast. Skeptical with Project No.9, quality alert.
Kyoukai no Rinne 2nd season
Another 25 eps, more ghost hunting. Ahh, season 1 was below average lets hope they can salvage it with this season.
Onigiri
Definitely isnt a story about how to make riceball. Awesome cast list. Pierrot+, this will be love and hate show.
Sakamoto desu ka?
Seems pretty badass, at least for me. Awesome cast, decent studio, ok character designs. One of my hyped shows.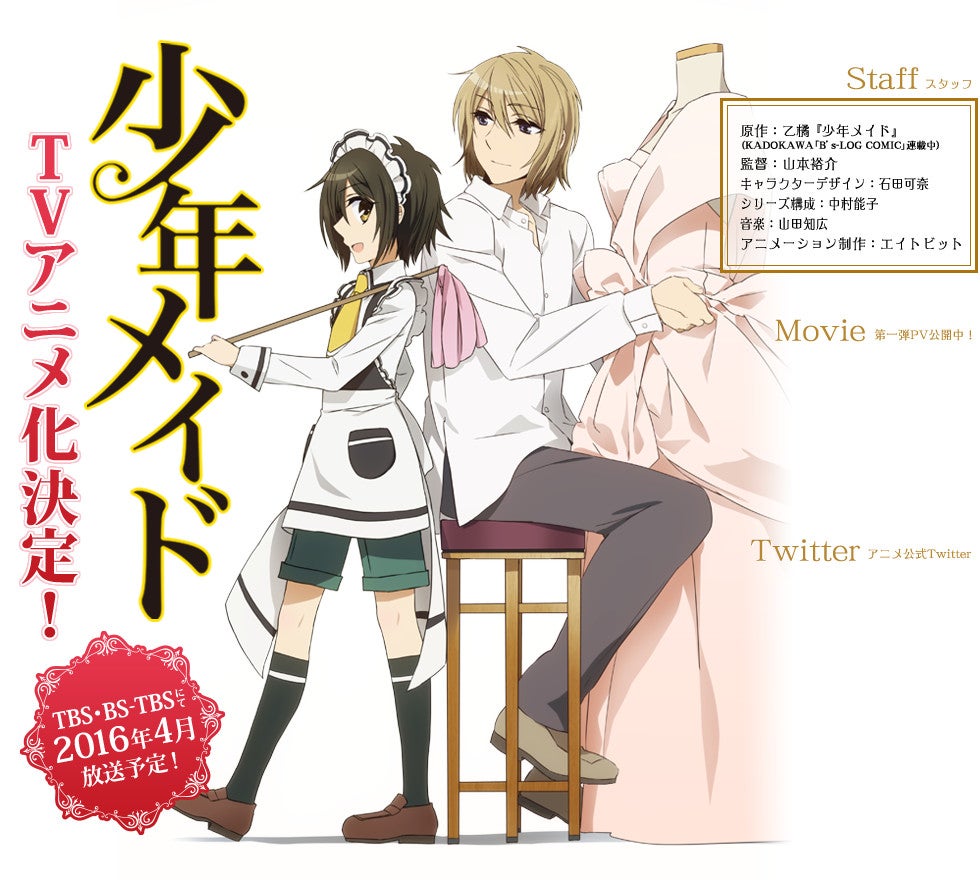 TRAP Shonen Maid
ITS A TRAP. AN 8-BIT TRAP. OMG, HYPE HYPE HYPE HYPE.
hopefully they dont pull off any Yaoi jokes in this one, otherwise, absolute drop and boycotting 8-bit. Wait, Rewrite is coming next season, shit, cant boycott.
Tanaka-kun wa Itsumo Kedaruge
The new Doge of the anime industry. Much life, such exhaustion, many future ahead. I will most probably learn how to hibernate after watching this show.
Wagamama High Spec
So much moe and that extremely blalant VN character designs… YES PLEASE
Sansha Sanyou
I need energetic shows like these, this will be my happy fruit for this season.
Pan de Peace
Another energetic looking show, this will sit side-by-side with my Sansha Sanyou
Flying Witch
A witch that flies with a broom, whats new? Deven, Joe and Ruki recommended this one, so might as I give it a try…
Mayoiga
My first original anime with Diomedea. The premise sounded pretty interesting for me, also giving it a try.
This wraps up my To-watch list. To add on the list, will be watching Charlotte OVA, Hibike movie, the new HoneyWorks movie, Shoujo-tachi OVA.
From what I see here, its going to be an improvement over Winter, but all the shows can be a hit or miss, lets hope they dont disappoint. Probably picked up too many shows this season. Will post weekly impressions for 3 weeks then will put my judgement whether to drop or continue.